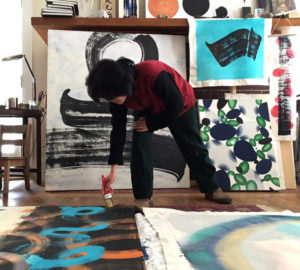 Yeachin Tsai was born in Taipei, Taiwan and moved to New York City in 1993. She received her BFA degree from National Taiwan Normal University, and her MFA degree at CUNY, Brooklyn College. Yeachin has practiced calligraphy and brush painting since her young age, having learned from traditional Chinese masters. Since moving to NYC, her work evolved into a unique style of "New Ink", a colorful expression that retains its roots in Chinese painting and embraces the explorative impulse of Western abstraction.
Her recent paintings are exuberantly au courant, full of a quiet kind of atmospheric energy, joyful and interactive. They are delightfully engaged with process and craft, transparency and movement, and the alchemy of colors​ and bold gestures. They are not afraid to be alluring of playfulness as they address notions of physics, chemistry, force, momentum, and visual perceptions.
Please click on each image under the menu "Gallery" drop-down series to view the detail of her artwork.